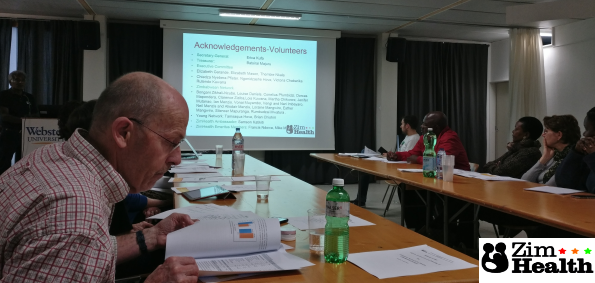 For Zimbabweans at home and in the diaspora, 2017 was a particularly momentous year of change. ZimHealth-Europe will shortly begin plans for a happy 10th anniversary celebration of our association's establishment in 2009.
Pour les Zimbabwéens du pays et de la diaspora, 2017 a été une année de changement particulièrement importante. Notre association ZimHealth-Europe commencera bientôt à planifier l'heureuse célébration du 10ème anniversaire du fondement de notre association en 2009.
Surely, an appropriate moment to review and evaluate our activities over the past year: meantime, we encourage new donors to be involved in the renewal of Zimbabwe's health infrastructure. Herewith a brief summary of ongoing ZimHealth projects –
Mabvuku Polyclinic (Danny Makuto operating theatre) completed: 35 successful Caesarian sections have been recorded since May 2017;

Chinengendu Polyclinic (Chegutu) the former Assembly Hall has been rebuilt to house the clinic and essential equipment procured in November 2017;

ZimHealth funds currently provide supplies for the following other medical establishments –

Kana Mission Hospital, Gokwe;

Karanda Mission Hospital;

St Patricks Mission Hospital, Hwange;

Zhombe Mission Hospital, Kwekwe
ZimHealth projects are regularly monitored, incurring no undue administrative costs. Feedback to the Executive Committee in Geneva is shared with donors.
At this point, it is perhaps important to underline that ZimHealth's mission has always been apolitical and focused on support for the refurbishment of our country's health needs in rural and suburban facilities. While ZimHealth has limited financial resources, among our membership there is much goodwill and diverse professional experience.
The ZimHealth AGM has now been set for Saturday 24th March 16.00 at Webster University, Bellevue (Geneva). Our meeting, open to anyone interested is just 5 minutes walk from the station with regular trains and public transport.

On this occasion the ZimHealth Executive Committee will present its full report and accounts. We continue to appeal for support from all sections of the diaspora to further our objectives in the months ahead.
Please join ZimHealth now, so we can face the challenges ahead with renewed enthusiasm!
ZimHealth Europe – Publicity & Communications
Le moment est sûrement approprié pour réviser et évaluer nos activités au cours de l'année passée: en attendant, nous encourageons de nouveaux donateurs à s'impliquer dans le renouvellement des infrastructures de santé au Zimbabwe. Voici un bref résumé des projets ZimHealth terminés et en cours:
La Polyclinique de Mabvuku (la salle d'opération Danny Makuto) est terminée: 35 césariennes ont été effectuées avec succès depuis mai 2017;
La Polyclinique de Chinengendu (Chegutu): l'ancienne salle de réunion a été reconstruite pour accommoder et équiper la polyclinique en novembre 2017;

Les fonds de ZimHealth financent actuellement d'autres établissements médicaux tels que –
L'hôpital de mission Karanda;

L'hôpital de mission Kana à Gokwe;

L'hôpital de Makonde (Lomagundi);

L'hôpital St Patrick à Hwange;

L'hôpital de mission Zhombe à Kwekwe.
Les projets ZimHealth sont régulièrement suivis, n'incombant aucun frais administratifs supplémentaires. Le retour d'information au Comité exécutif ZimHealth à Genève est partagé avec les donateurs.
Sur ce point, il est sans doute important de souligner que la vision de Zimhealth a toujours été apolitique. Elle s'est concentrée à soutenir et à rénover des projets de santé publique dont notre pays a besoin, dans des zones rurales et de banlieue. Tandis que les ressources financières de Zimhealth sont limitées, nos membres démontrent leur bonne volonté et mettent à contribution leurs diverses expériences professionnelles.
L' AGM ZimHealth a été fixée pour samedi 24 mars à 16.00 à l'université de Webster à Bellevue (Genève). Notre réunion, ouverte à toute personne intéressée, se trouve à 5 minutes à pied de la gare; les transports publics sont fréquents et réguliers.
A cette occasion, le comité exécutif de ZimHealth présentera son rapport annuel ainsi que ses comptes. Nous continuons à demander à toute personne de la diaspora de venir nous aider à poursuivre nos objectifs pendant les mois à venir.
N'hésitez pas à rejoindre ZimHealth dès maintenant, pour faire face aux défis à venir avec un enthousiasme renouvelé!
ZimHealth Europe – Publicité et Communications